What accessories do other Tesla owners buy, the tesland top 10?
Tesland.com has been online for almost a year now. The following top 10 shows which Tesla Model S accessories are popular with other owners.
So, here we go with the Tesland.com top 10:
This magnetic, discrete phone holder is very suitable for the Tesla Model S en X due to its functional and minimalistic design.

With this tray that fits in your center console, you'll have a solution to keep your stuff from flying trough your car.

All new BlackVue DR750S 2ch.
"THE best dashcam available"
This camera is very suitable for installation in the Model S and X.

These AlloyGators ere THE solution to protect your precious wheels against the annoying curb damages.

These welcome logo projection lights are to be installed in the bottom of the passenger doors. They will project  a nice logo ons the floor when the doors are opened.

You want more light in your doors, trunk, trunk, food well, or dashboard? This is what you need.

Tesland designed elastic "autolift" for your Model S parcel shelf.

Easy to install with the pre installed 3M VHB tape. Or you can have it done at our workshop. we also can install it permanently with glue.

Are you worried about the radiation of your key fob while you have it in your pocket? This pouch will shield you from the signal of your key fob.

Illuminated door sill plates for Model S.
Made by Tesland. Brushed stainless steel door sill plates, to replace the aluminium inserts in your front door sills.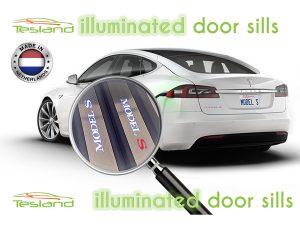 Even more accessories?
Did not find in this list what you were looking for?
This is just the top 10, of course we have way more accessories and we keep adding new ones regularly.
Please
visit our shop
for more
Share this list with other Tesla owners if you like it.
Do you have a suggestion for an accessory you have seen that we don't have yet, but you would like to see in our shop?
Let us know by sending us a not, use the form on
the contact page
please.